Venue & Hospitality
Radisson Blu Hotel, Moscow Sheremetyevo Airport
Conference Dates: July 23 - 25, 2018
Hotel Services & Amenities
Audio/Visual Equipment Rental.
Business Center.
Business Phone Service.
Complimentary Printing Service.
Express Mail.
Fax.
Meeting Rooms.
Office Rental.
Photo Copying Service.
Secretarial Service.
Telex.
Typewriter.
Video Conference.
Video Messaging.
Video Phone.
ATM.
Baggage Storage.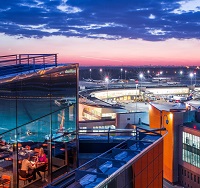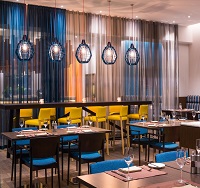 Transportation
3 min (650 m) via w. International Fastest route, the usual traffic

Sheremetyevo International Airport

Khimki, Moscow Oblast, Russia, 141400

Head west on ш. Sheremetevskoe
12m
Turn right towards ш. International
450m Turn left onto . International 97 m
Turn right

Continue straight Destination will be on the right,
Radisson Blu Sheremetyevo Airport Moskva, Russia, 141400

About City
Moscow is the capital of Russia and is located in the far west of the country on the river Moskva. It has a population of 11,273,400 (as of 2004), although a great number of both permanent and temporary illegal migrants, plus the ongoing merging of suburbs, raise the unofficial population to about 13.5 million people - about one tenth of the entire Russian population. Already the most populous city in Europe, Moscow continues to grow. This is largely due to its 20% per annum economic growth, which attracts workers (often illegally) from other parts of Russia where the economy has stagnated or is even in decline. An internal passport system making it illegal for non-residents to remain in the city for longer than 90 days is proving ineffective at combatting this trend. As well as being a thriving economic centre (boasting more billionaires than any other city in the world), Moscow is also a centre of the arts. The city enjoyed a golden age of literature in the 19th century when Puskhin, Chekhov, Gogol, Turgenev, Dostoevsky and Tolstoy all worked here. Today the world-famous Bolshoi Ballet and Opera Company still perform, as well as a number of reputable theatre groups.
Dialing code: +7 495, +7 499 (digital network)
Sights & Attractions
The Kremlin
Red Square
Orthodox Moscow
Museums and Galleries
Parks
Famous Streets
Weather (averages):
| | | | |
| --- | --- | --- | --- |
| Month | High °C (°F) | Low °C (°F) | Precipitation cm |
| January | -6.1 (21) | -11.7 (11) | 3.56 (1.40) |
| February | -4.4 (24) | -11.1 (12) | 2.79 (1.10) |
| March | 1.1 (34) | - 5.6 (22) | 3.30 (1.30) |
| April | 9.4 (49) | 1.1 (34) | 3.81 (1.50) |
| May | 17.2 (63) | 6.7 (44) | 5.08 (2.00) |
| June | 20.6 (69) | 10.6 (51) | 6.60 (2.60) |
| July | 21.7 (71) | 12.8 (55) | 8.13 (3.20) |
| August | 20.0 (68) | 11.1 (52) | 7.11 (2.80) |
| September | 13.9 (57) | 6.1 (43) | 5.84 (2.30) |
| October | 7.2 (45) | 0.6 (33) | 5.08 (2.00) |
| November | 0.0 (32) | -4.4 (24) | 4.32 (1.70) |
| December | -3.9 (25) | -8.9 (16) | 4.32 (1.70) |
Currency: Russian Ruble (currently $1 is very approximately 30ru.)